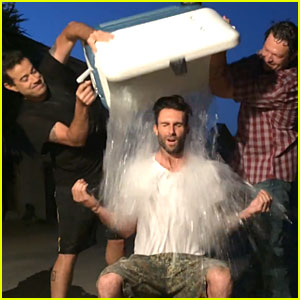 Yeah, I said it. Boo-fuh-reakin'-hoo! Does someone need to call the waaaah-mbulance? I cannot tell you how many times I've seen people bitching on my newsfeed about these videos. Things like, "Way to go America.. you're wasting perfectly clean water while people in third world countries don't even have water clean enough to drink."
Oh, and the memes of course…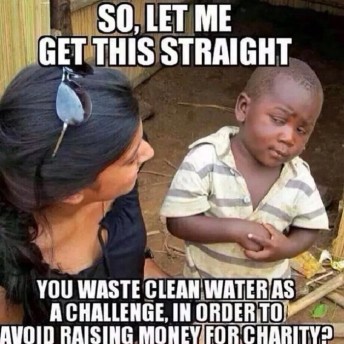 Um, ok. Do you water your lawn? Care to know how many gallons of water that is per day? Or do you ever take extra long showers? Oh, you do? Well, then I'm sure you are taking extra long COLD showers, right? Oh, you aren't? Well, then that's also wasting the energy it took to heat the water. Just SHUT UP already. Do you drive a car? Do you feel guilty because that person you just passed walking doesn't have a car to drive? I'd be willing to bet that you don't even give it a second thought.
Are people jumping on the bandwagon because their social media accounts have been filled with celebrity Ice Bucket Challenge videos? Probably. So what? Who cares why? The fact is they are… and from what I've seen it's worked. It has raised awareness for a horrible, incurable disease that up until 2 weeks ago, I had NO IDEA what it was for the most part. How is that a bad thing? Some people have even bashed these celebs who are participating, saying that they are just doing the stupid challenge and not donating to the cause… which is absolutely NOT true. Most, if not all, have also donated large amounts.
We live in a society where celebrities have A TON of influence… good and bad… a lot of times bad. I'm just glad that on some rare occasions that influence is used for a good cause. It baffles me that so many people are just assholes about it. You know the ones… the ones that no matter what is going on, they have to criticize it. Like they are more 'enlightened' than the rest of us. The self proclaimed 'social awareness experts'  the ones who use terms like 'sheeple'. Yep, those people. The ones that look down their noses at all of these poor, pathetic, narcissistic people who are participating in these videos. Like it's their duty to educate the rest of us poor saps. Do me, and the rest of the world a favor and take a break from your douche-baggery… get over yourself already.
THIS IS THE BEST VIDEO I'VE SEEN SO FAR. THIS IS ALS. PLEASE WATCH THE ENTIRE VIDEO.