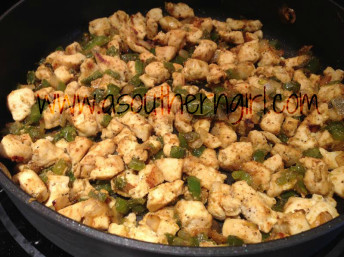 Man, I'm on a roll! This low calorie, good for you stuff isn't as hard as I thought. Most people think of low calorie as low taste.. or at least that's what I usually think when I hear 'low calorie'. It sooooo doesn't have to be that way! And THAT, my friends, is awesome!!!
One of our local Mexican restaurants serves something similar to this.. I don't remember what it's called, but it's #36 on the menu. 😉 So, this is my version of #36 Spicy Chicken w/Peppers and Onions. (I'm sure whatever the official name is on the menu sounds way cooler.. but oh well)
What you'll need
3 boneless chicken breasts sliced and diced (small pieces)
1 small onion diced
1 bell pepper diced
1 jalapeño pepper diced
1 poblano pepper diced
2 cloves minced garlic
1/2 tbsp extra virgin coconut oil
salt & pepper (I also used a little cayenne pepper for added spice)
Heat skillet to medium/high and add coconut oil. Toss in everything but the chicken, salt, and pepper. Cook until onions start to get transparent.  Add the chicken, along with salt and pepper. Cook until chicken, onions, and peppers are browned.

Related posts: