My Grandma made ham this way… my Great-Grandma did too. For as long as I can remember, it's been a tradition in our family to have Coke Ham at the holidays. We aren't too crazy about turkey in this family.. so the turkeys get pardoned at our house at Thanksgiving… Christmas too. 😉 The Coke helps break down the fat, and tenderizes the meat. At least, that's what I assume it does. I totally just made that up. I'm not really sure what kind of magical sorcery happens when it cooks, but whatever it is.. it's yummy.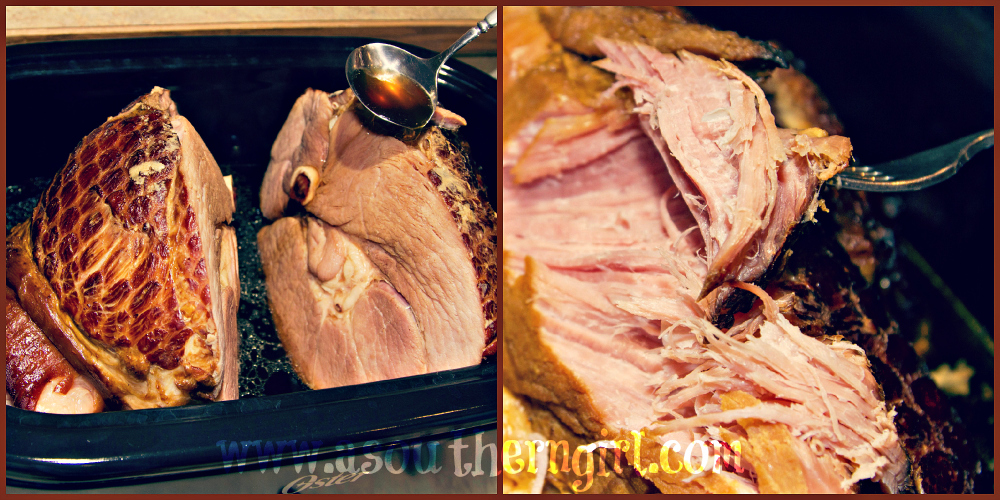 It doesn't get any easier than this either, and the flavor is awesome.
Coke Ham.. It's the yummiest ham ever!
We usually get a large ham since we have a lot of mouths to feed. The one in the photo is about a 20 lb cured ham.
Ingredients
a ham
large roasting pan
2 liter bottle of Coke
Instructions
Place the ham in a large roasting pan, pour the Coke in the pan until it comes up a couple of inches on the ham.
Cover with a lid if you have it, or heavy duty foil.
Bake for 8 hours at 250, basting several times.
I usually put mine in the night before and let it cook all night long. By morning, it is fall-off-the-bone tender, and juicy. Mouthwatering good!
This year I bought an electric Oster Turkey Broiler that sits on the counter top. It was awesome! It kept the oven free for any other baking I needed to do. Money well spent.

Related posts: