Have you ever had one of those days… the kind of day where you would rather take a beating than to have to stand at the stove and cook dinner?  The kind of day where you are tempted to throw a loaf of bread on the table and call it good?  Well, that's me on MOST days.
We eat out probably just as much, if not more than I cook.  My Grandmother and Grandma would be so ashamed, I know.  Well, faced with that dilemma AGAIN (like I said, it's pretty much a regular thing 🙂 )
It's pretty hard to find something my son Lane will eat.  His diet pretty much consists of PB&J, chicken nuggets.. well, anything chicken for that matter, grilled cheese, and chocolate chip cookies.. you get the idea.  Anyway, he choked this down quite easily. No gagging, crying or anything.. I was impressed.  My husband and I really liked it.  Simple, yet good.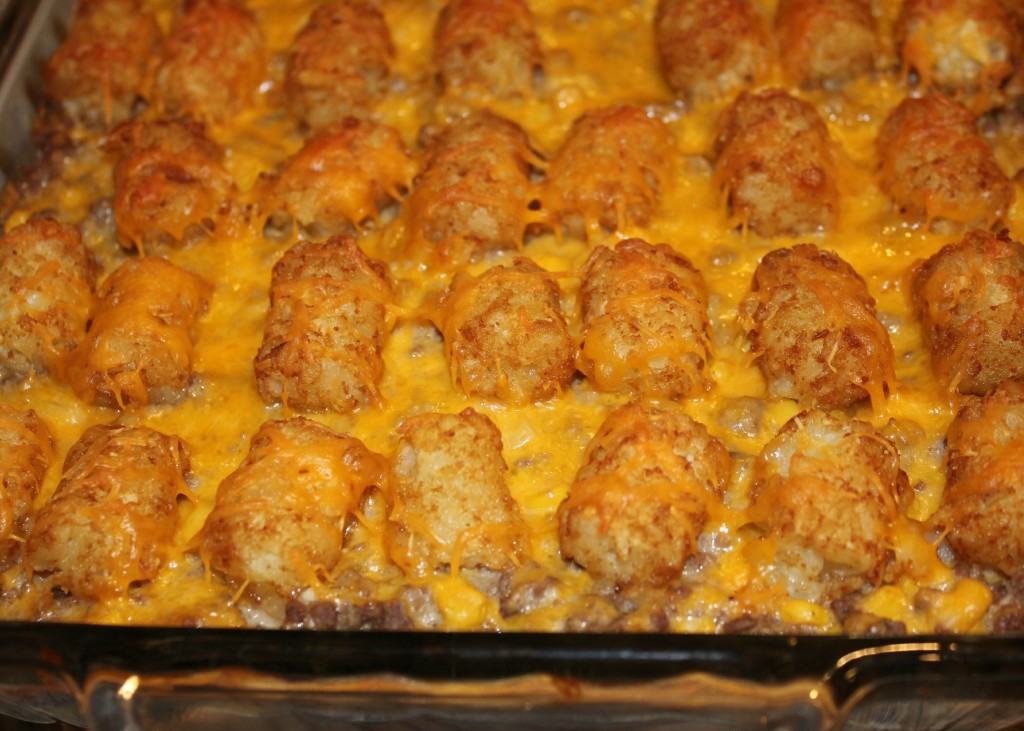 Ingredients
2 lbs Ground Beef
1 Medium Onion Chopped
3 Cloves of Garlic Minced
1 Can Cream of Mushroom Soup
1 15 oz Can of Whole Kernel Corn, Drained
2 1/2 Cups Shredded Cheddar Cheese
2/3 Cup of Milk
5 Tbsp of Sour Cream
1 Bag of Tater Tots
salt and pepper to taste
It works best if you let the tater tots thaw for a bit before starting, I actually forgot to do this, so I stuck them in the microwave for a minute or so.
In a large skillet cook the onion, garlic, and ground beef until cooked thoroughly add salt and pepper.  Drain and transfer to large bowl.  In a separate bowl combine together sour cream, soup, and milk.  Add to hamburger meat and mix well.  Mix in 1 1/2 cup of cheese and corn.  In 9 x 13 casserole dish layer 1/2 of tater tots on the bottom of the dish, then spread the mixture over them.  Top it off with remaining tater tots and cover with leftover cheese. Bake at 350 for 25 minutes or until tater tots are browned. Serve with a dollop of sour cream to finish it off. 🙂  Enjoy!

Related posts: