That's a mouthful, in more ways than one. I wasn't quite sure what to call this yummy cake. I thought about "Gain 5 lbs Instantly Cake".. "Straight to the Hips Cake".. "Instant Cavity Cake".. you get the idea. It will definitely satisfy your sweet tooth.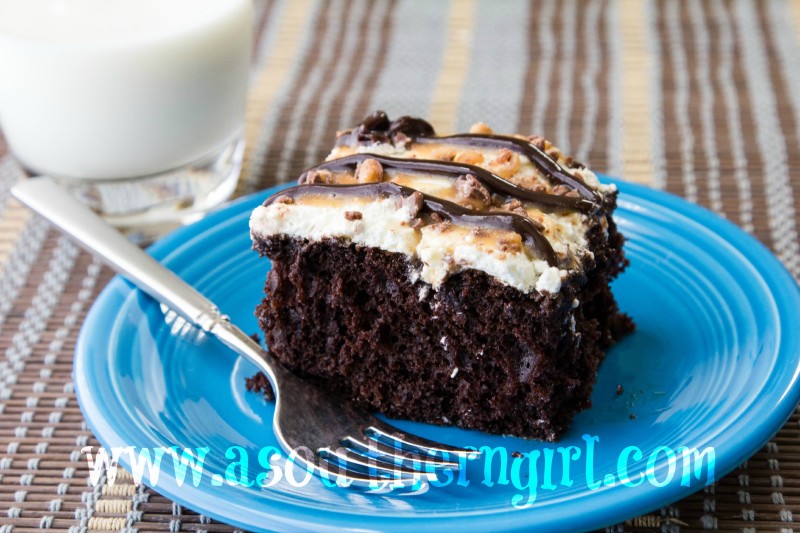 Sinful!
What You'll Need
1 Box Chocolate Fudge Cake Mix (plus any ingredients to prepare according to box directions)
1 Jar of Caramel Topping
1 Jar of Fudge Topping
1 Bag of Heath Chips (found by chocolate chips in baking aisle)
1 Box Jello Instant Chocolate Pudding
1 Tub of Cool Whip
In large mixing bowl combine dry cake mix, and instant pudding mix. Add ingredients that the cake mix calls for plus an extra 1/3 cup of water. If you aren't using jumbo eggs, add 1 extra egg. Beat with mixer until combined. Pour into 9×13 pan and bake until toothpick comes out clean. Heat caramel in microwave until it pours easily. While cake is still hot, take a wooden spoon handle and poke holes all over the cake… or you can use what I used.. the handle of a knife. 😉 Drizzle caramel sauce all over the hot cake making sure to get plenty in the holes. Let cool completely. Top with cool whip then sprinkle heath chips all over. Drizzle with caramel and warmed fudge. Store in refrigerator.
I may need to invest in a treadmill. 😉

Related posts: