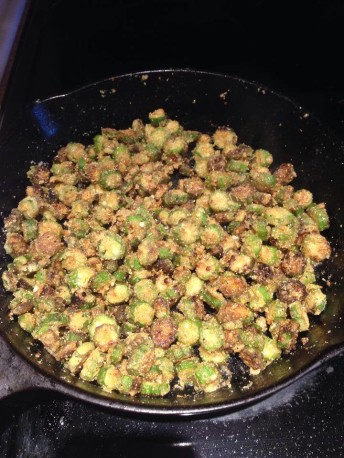 This is an 'approximate' but very close recipe. 
3 cups okra sliced a little less than 1/4 inch thick
1/2 cup flour
A little over 1/2 cup of yellow cornmeal
1/2 cup of vegetable oil
Cast iron skillet if you have it, if not I guess that's ok too. 😉
Heat oil on med/high heat. While your oil is heating up, pour cornmeal and flour into a gallon baggie. Add okra and shake until completely coated. Drop one piece of okra into skillet and it will sizzle when the oil is hot enough. Add okra one handful at a time shaking off excess flour/cornmeal. Stir okra really well and add salt and pepper to taste. Stir occasionally until crisp. Lower heat a smidge if you need to as it cooks. I like mine just this side of burned, but that's me.  Enjoy. I could seriously eat the whole skillet full. I won't… but I could.
If you need a cast iron skillet, here is a great price on one. They are great to cook with. Plus, it ships free.

Related posts: