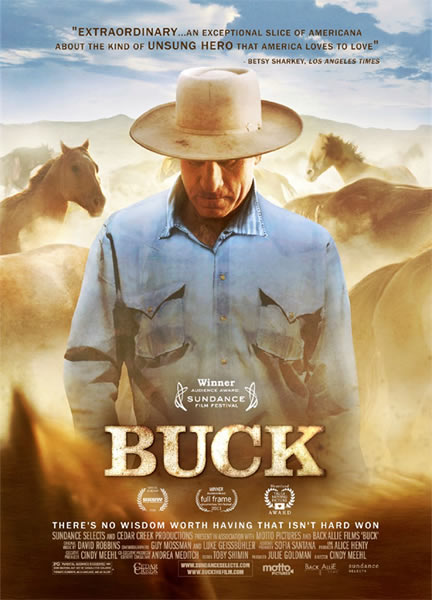 If you don't know who Buck Brannaman is, you owe it to yourself to find out.  He was an adviser and served as inspiration for the movie The Horse Whisperer with Robert Redford.  A few days ago while flipping through the channels I came across Buck, a documentary about Buck's life and philosophies concerning horse training… at least that's what I thought when I started watching it.  About half way through I realized that it is, in fact, SO much more than that.  His approach to horse training is promoting praise and cooperation rather than fear and punishment.  Those principles have a far greater reach than just training horses..
Buck shares the story of his tragic upbringing involving an abusive father, which he credits for his compassion toward horses and the fear they have when learning to trust their handlers.  He travels the country doing 'clinics', where he provides hands on training and advice for owners of horses.
After watching this, you will see that most of what he teaches aren't just lessons in horse training.. they are also life lessons.
"You allow a horse to make mistakes, the horse will learn from mistakes no different than the human. But you can't get him to where he dreads making mistakes for fear of what's going to happen after he does."          
– Buck Brannaman
"Horses don't think the same as humans.  Something that's most unique about the horse, that I love, is not what he possesses but what he doesn't possess.  And that is greed, spite, hate, jealousy, envy, prejudice.  The horse doesn't possess any of those things.  If you think about people, the least desirable people to be around usually possess some or all of those things.  And the way God made the horse, he left that out."   
– Buck Brannaman

Related posts: