This is a set it and forget it kind of meal. I threw this together last night and let it cook in the crockpot while we slept so I could send it to work with my husband this morning. He just texted me saying that 3/4 of it was gone before 11:00. It must be good stuff! I love one-pot meals. The less fuss the better….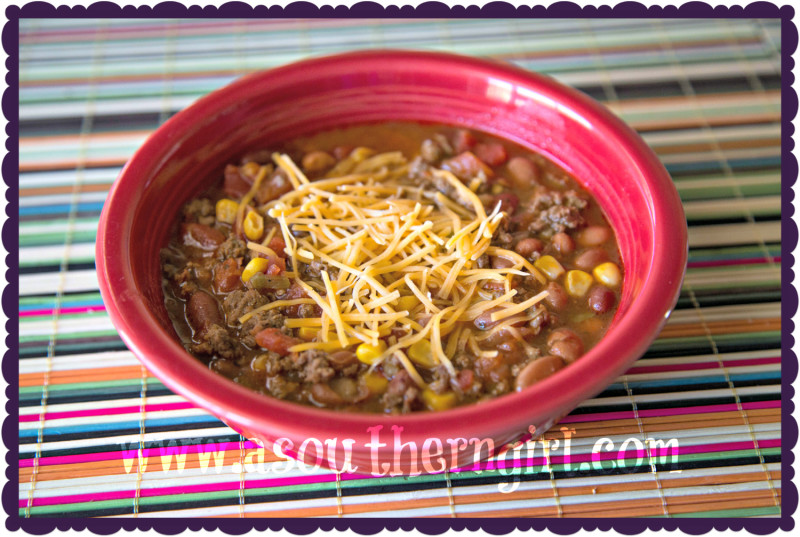 Here is a recipe to print!
Paula Deen's Taco Soup
Ingredients
2 lbs ground beef
2 cups onion chopped
2 14.5 oz cans pinto beans
1 14.5 oz can of light red kidney beans
1 15¼ oz can of whole kernel corn - drained
1 14.5 oz can diced tomatoes
1 14.5 oz can tomatoes w/chilies
1 14.5 oz can Mexican style stewed tomatoes
2 4.5 oz cans of diced green chilies
½ cup sliced green olives (optional)
1 4.6 oz can sliced black olives - drained (optional)
1 package of ranch dressing mix
1 package of your favorite taco seasoning mix
Instructions
Brown meat and onion in skillet. Drain. Spoon meat into large crockpot .
Add all other ingredients and stir well. Cook on low for 8 hours.
You can serve with tortilla chips and top with sour cream and cheese if you like.

Related posts: