It's that time of year… pumpkin everything is hitting the shelves and coffee shops across the nation. I'm not much of a 'Pumpkin Spiced Latte' or 'Pumpkin M&M's' kind of girl… but this Pumpkin Roll, um… yes, please!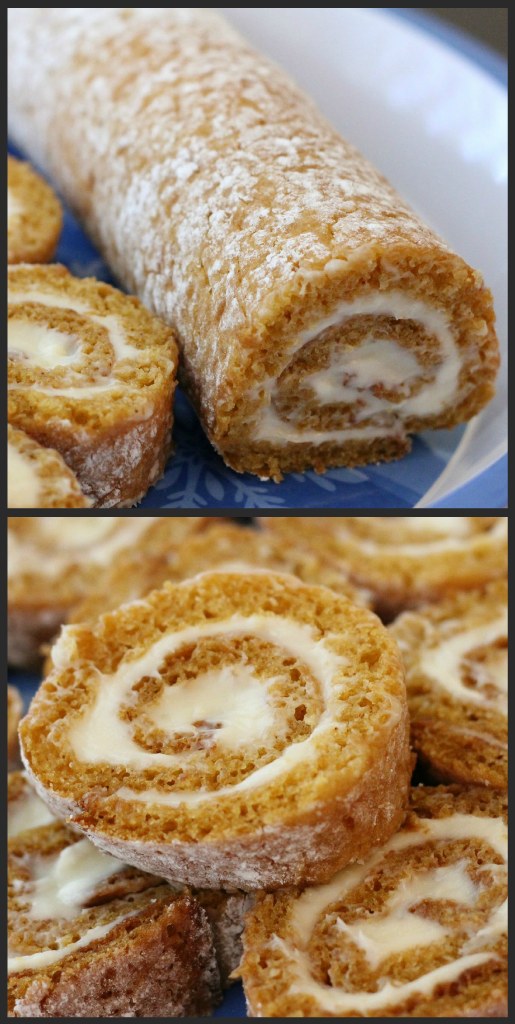 Ingredients:
3 Eggs
1 Cup Sugar
2/3 Cup Libby's Packed Pumpkin
1 Tsp Salt
1 Tsp Baking Soda
1/2 Tsp Cinnamon
2/3 Cup Flour
Preheat oven to 350. Cover a jelly roll pan with wax paper and lightly cover with cooking spray.  Beat eggs, sugar, and pumpkin.  Add dry ingredients and mix well.  Pour batter into pan and spread to sides.  Bake 10-15 minutes or until slightly browned.  Lay a tea towel out flat and sprinkle generously with powdered sugar. Flip the pan onto the towel directly out of the oven.  Carefully remove wax paper and roll into the towel, lengthwise. Cool in the refrigerator for 1-2 hours.  Unroll and fill with pumpkin roll filling below, then re-roll and chill for 1 hour.  When firm, slice into desired thickness.
Pumpkin Roll Filling:
8 Ounce Cream Cheese
2 Tbsp Butter or Margarine
1 Tsp Vanilla
1 Cup Powdered Sugar
Mix cream cheese, butter, and vanilla until nice and creamy, then add powdered sugar and beat well.

Related posts: