Oh em gee… this is good. I try not to eat pasta all that much because of the whole bad carbs vs good carbs thing, but I couldn't resist this one. You could always substitute whole grain pasta if you chose to. This is great as a side dish, or as a meal.. just add garlic toast. Heaven…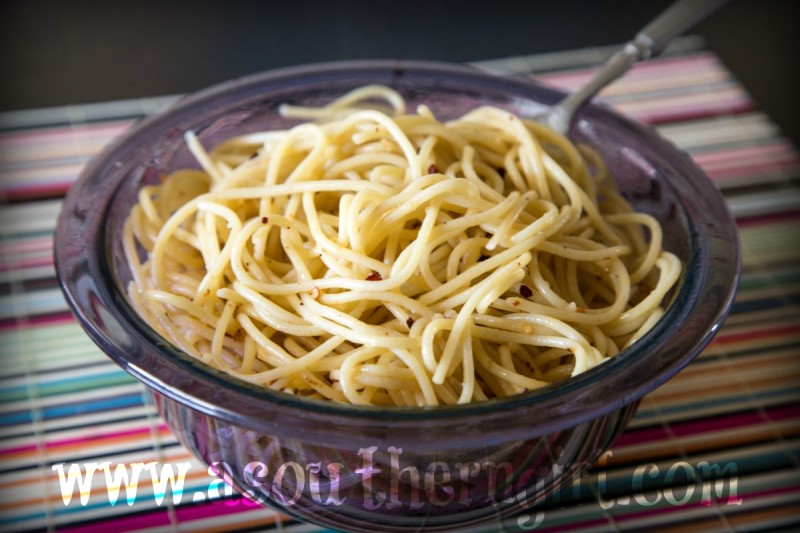 I love recipes like this because they are so forgiving. There's no need for exact amounts of anything. You can always adjust it to your own personal tastes.

Spicy Garlic Pasta
Ingredients
8 oz spaghetti
3 garlic gloves finely diced
⅓ Cup Extra Virgin Olive Oil (plus an additional Tbsp)
1 Tsp Crushed Red Pepper Flakes
1 Tbsp Grated Parmesan Cheese
1½ Tsp Sea Salt
Fresh Ground Black Pepper
Instructions
Add ½ Tsp of salt to boiling water and cook pasta until it's al dente. You want a little bit of resistance when you bite into it, not undercooked and definitely not overcooked. While pasta is cooking add your minced garlic along with 1 Tbsp of olive oil and cook garlic over a medium heat until it just starts to brown. Be careful not to burn it. Just as it starts to darken to a golden color, remove from heat. Set aside. When pasta is done, drain and add remaining olive oil, red pepper flakes, garlic, parmesan, salt, and pepper to taste. Toss well and serve immediately.

Related posts: