I just love popcorn balls.. there's something about them that just brings back memories of childhood. Some  popcorn balls are hard as a rock.. some are too soft and gooey.. and others are just right. These are 'just right' and they are so good! This recipe makes about 12-14 softball sized balls. Feel free to double the recipe if you are making them for a crowd!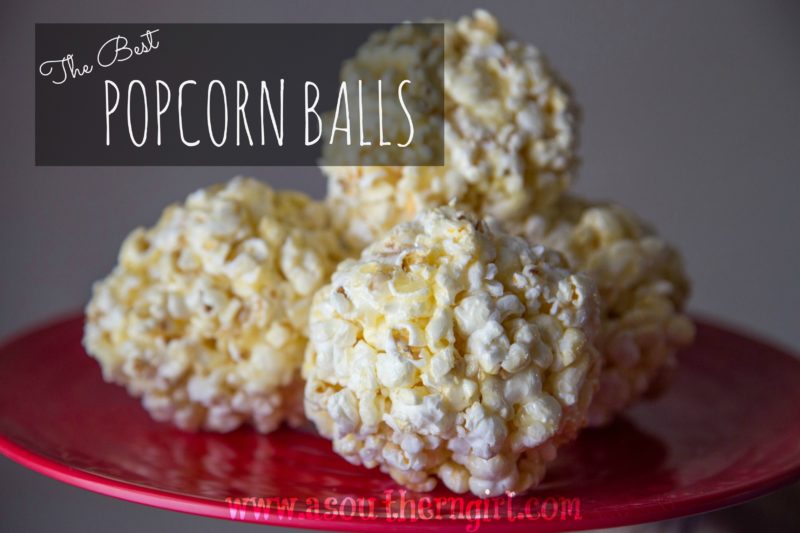 The Best Popcorn Balls
These popcorn balls are perfect! Not too hard and not too gooey. Just right....
Ingredients
3 bags of microwave popcorn (I used light butter)
¾ cup light corn syrup
¼ cup of margarine
2 cups powdered sugar
1 cup marshmallows or marshmallow fluff
2 tbsp water
Instructions
In a medium sauce pan, heat margarine, marshmallows, corn syrup, sugar, and water. Heat and stir until mixture starts to boil. Continue stirring until mixture starts to thicken. Pour over popcorn and stir with spoon. Be careful, because the mixture is really hot! I used latex gloves sprayed with cooking spray to finish mixing. Once all popcorn is covered, press firmly to form balls. Place popcorn balls on wax paper to finish cooling.
Useful tips:
I dumped all of the popcorn into a large roasting pan. I didn't have any bowls large enough to hold 3 bags of popcorn. It worked perfectly!
Be sure and remove unpopped kernels from the popcorn before mixing, so you don't bite into a hard kernel.

Related posts: