We had a blast making these last night. I've made them before, but forgot how good and simple they really are. Any chance I get, I have Lane help me in the kitchen. This kid is the life of the party and is always entertaining. Plus, he is always more inclined to try new things when he gets to help prepare them. Last night, he figured out he likes onions, bell peppers, and banana peppers. Getting him to eat more veggies is always a good thing.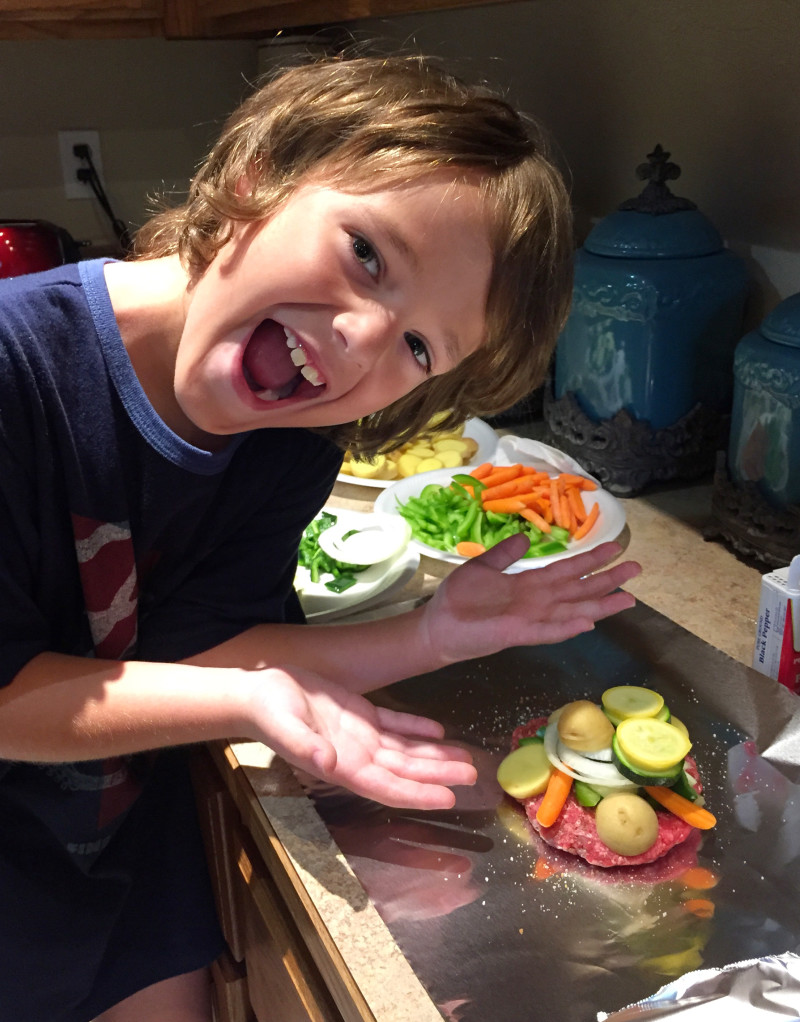 There is really no right way or wrong way to put these dinners together. It's kind of an 'anything goes' meal. I just cut up a bunch of different veggies, and ingredients and let him have at it. Everyone can make theirs exactly how they want it. 
Here's a video of our 'guest chef' in action. 
What we used:
Hamburger patty
Banana Peppers
Bell Peppers
Onion
Pepperoncini Peppers
New Potatoes
Carrots
Poblano Peppers
Yellow Squash
Zucchini
Fresh Mushrooms
Salt
Pepper
Worcestershire Seasoned Pepper
Garlic Salt (only because I forgot to buy fresh garlic)
A Pat of Butter
To assemble, grab a piece of heavy duty aluminum foil. Make sure it's long enough to fold up with all of your yummies inside.  Place your hamburger patty in the center, season the meat however you like. Add veggies, and season again. Top with a pat of butter then bring both long ends together in the center (like a tent) and fold over repeatedly to seal until flat. Then roll ends to seal. I used a second piece of foil and folded it the opposite way just to give it a little extra seal. Place in the oven on a foil lined cookie sheet (or on grill). I cooked ours at 425 for 20 minutes then flipped and reduced the heat to 350 for an additional 20. Cooking times may vary depending on how thickly sliced your veggies are and the size of hamburger patty. These were a huge hit and so much fun! 
This was Lane's before. (Notice the face)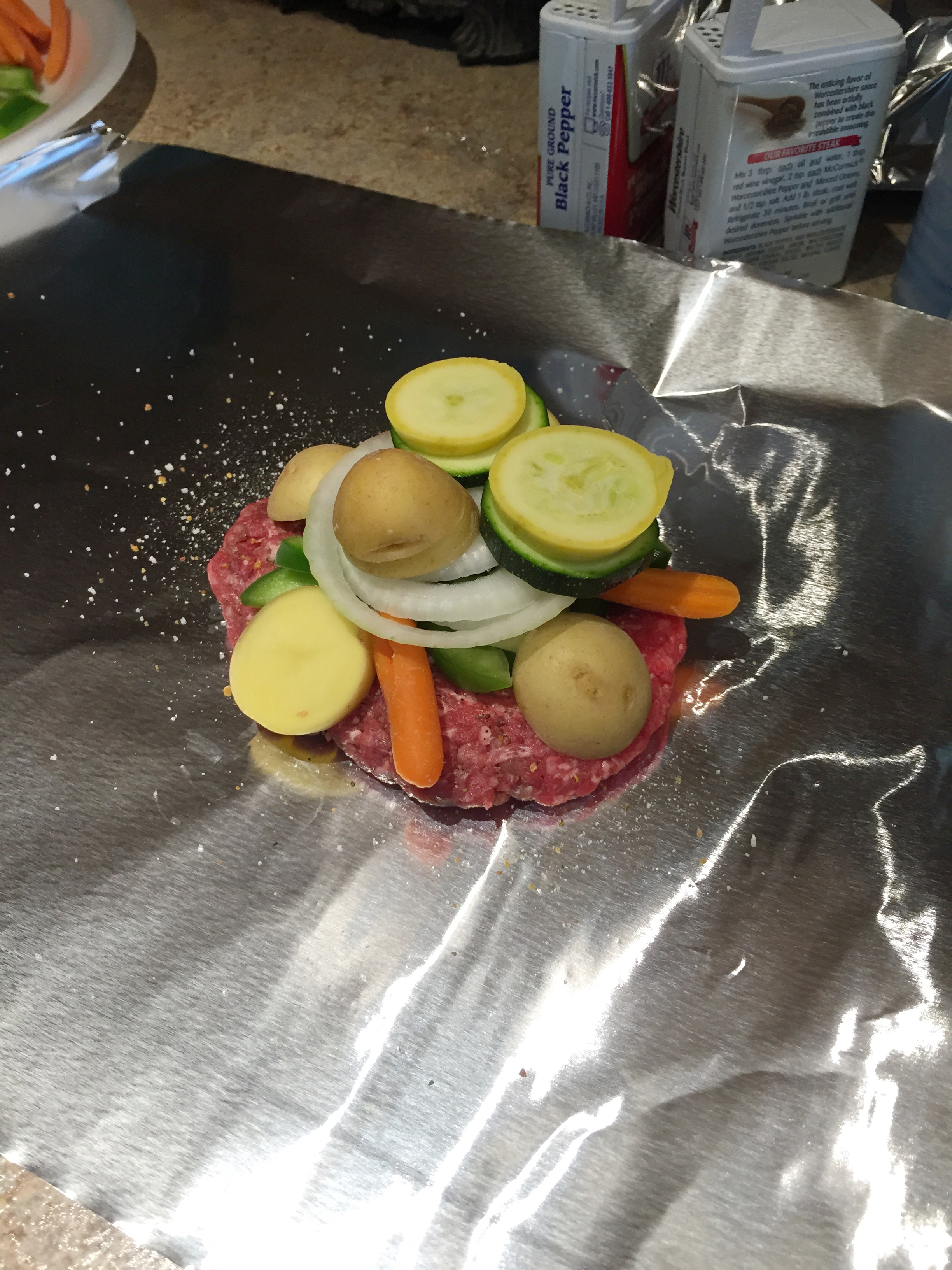 This was mine after cooking. Yum! It smelled so good!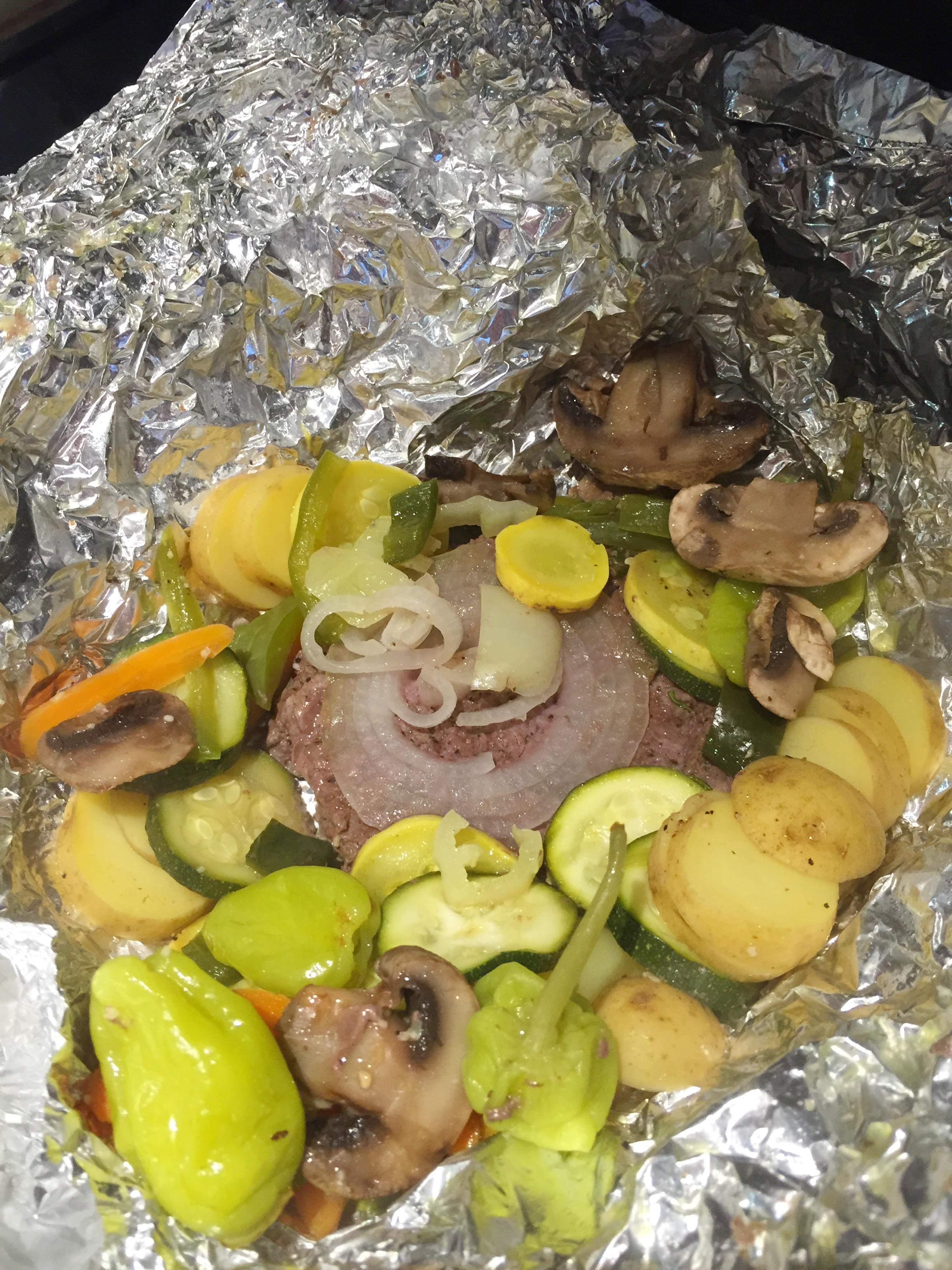 Related posts: