I have loved Frito Chili Pie since I was a little girl. I used to call it Cheeto Frilly Pie. 😉 However you say it, it's delicious. With the weather turning cooler, (which I hate) this Frito Chili Pie Casserole is the perfect 'warm your bones and your belly' meal.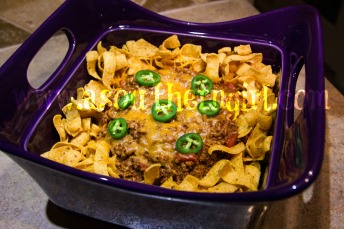 I made my own chili, but if you want to keep it simple just use your favorite brand of prepackaged chili seasoning and follow the directions on the package. If you want to make your own, my recipe is below. We are a bean-free chili kind of family, but throw in a couple of cans of your favorite beans if you prefer it that way. Just be sure to drain the liquid before adding.
CHILI
1 1/2 lbs lean ground beef
3 cloves garlic minced
1 yellow onion chopped
1 – 14.5 ounce can of diced tomatoes (drained)
1 – 8 ounce can of tomato sauce
3 1/2 Tbsp of chili powder
1/2 Tbsp cumin
1/2 Tbsp sea salt
1 Tsp pepper
ADDITIONAL INGREDIENTS FOR CASSEROLE
shredded cheese
sliced jalapeño peppers
1 bag of Fritos
Brown hamburger meat with onion and garlic. Add the diced tomatoes, sauce, chili powder, cumin, salt, and pepper. Let simmer for 30 minutes on low heat stirring occasionally.
Spoon chili into 9×12 casserole dish (mine is 9×9 but deep) and then line the edges with Fritos. Top with shredded cheddar and jalapeños. Heat in 350 degree oven for 15 minutes. Serve with additional chopped onion, peppers, and cheese. I love adding mustard to the top of mine. Weird? Maybe a little.. but it's so good. 🙂
This is the first piece of Rachael Ray Bakeware that I have purchased and I love it! You can get it from Amazon and there are other beautiful color options.

Related posts: