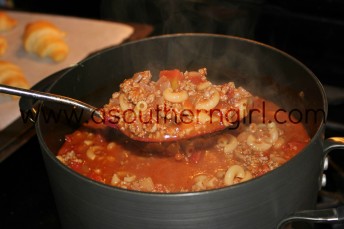 Here is an easy printable recipe!
I hope you enjoy. 🙂
This really is the absolute BEST goulash I've ever had. It is really simple, and is even better reheated. My 4 year old actually ate it, and anyone who knows him knows that he is a SUPER picky eater.

Paula Deen's Goulash (the best EVER)
Ingredients
2 lbs lean ground beef
2 medium yellow onions, chopped
3 cloves garlic, chopped
3 cups water
2 (15 oz) cans tomato sauce
2 (15 oz) cans diced tomatoes
2 tablespoons Italian seasoning (I didn't use this)
3 bay leaves (I didn't use this either)
3 tbsp soy sauce
1 tbsp Paula Deen's House Seasoning (Again, didn't use this in mine)
1 tbsp salt
2 cups elbow macaroni (uncooked)
*I added garlic powder, seasoning salt, and a little pepper to mine.
Instructions
In large pot, cook ground beef over medium heat until browned, spoon off any extra grease.
Add onion and garlic, saute until transparent.
Add 3 cups of water, tomato sauce, diced tomatoes, all seasonings, soy sauce, and bay leaves (if you choose to use them). Allow to simmer for 15-20 minutes.
Add macaroni and allow to simmer an additional 20 minutes or until tender. Remove bay leaves before serving.
Get recipe for Paula's House Seasoning
HERE
This stuff is GOOD!!!
*Some people have complained that the recipe is too salty. I like salty food, and I didn't think so.  You might adjust the salt the recipe calls for if you are sensitive to salt.
** P.S.
I started this blog a few years back for a place to share my favorite things.. recipes, my love of photography, traveling, my crazy randomness, etc. I had no idea that it would turn into something that so many people would take interest in. For everyone stopping by, I truly thank you. Thank you, thank you!!! I love reading all of the comments on my posts.. and under this recipe.. the additions made, the way some of you make yours that differs from this one.. all the different names you grew up calling it. 99% of the comments have been nice.. The thing that does surprise me, although I guess it really shouldn't.. are all of the hateful comments. I have been flogged in numerous comments for this not being 'true Hungarian goulash'. I don't think I ever claimed that it was. It is a recipe that I posted on my blog because I made it for my family and we liked it. I've got a tough skin, so the hateful comments don't bother me. If you need to vent your frustrations about how I'm personally insulting anyone who happens to be Hungarian, then by all means do so… but, if you would rather use your time in a more productive way, you can Google 'Hungarian Goulash' and find a more suitable recipe.
Thanks!

Related posts: