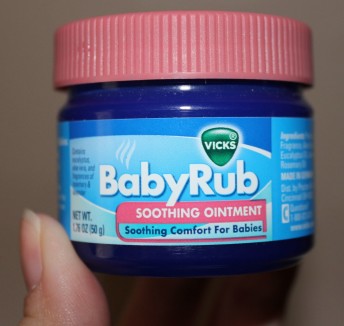 MIRACLE IN A JAR!
We've all experienced it.. you've got a cold, bronchitis, etc.. you may start feeling better, but that nagging dry cough, tickle in your throat keeps you from sleeping at night… not to mention your significant other may be secretly plotting your death from the other side of the bed due to your constant hacking… Well, I have read about this trick several times online over the past year or so, and thought, "No way.. it can't possibly be that simple." Well, let me tell you IT WORKS!!!
The trick:
Rub Vicks Vapor Rub on the soles of your feet and then cover with a pair of socks before getting into bed at night.
I was desperate last night.. I grabbed an old bottle of Vicks that I've had since Lane was a baby.. didn't even know if it was expired or not, but it's all I had. Much to my amazement… I did not cough one single time after slapping this stuff on my feet.  Not sure why it works, but it does.
The next time you or your kiddos are coughing at night, try it.. you'll be a happy camper and so will they.
It's that simple.. all the years I've suffered.. all the sleepless nights.. who knew?