Here's a story.. of a man named Brady..(well, you know the rest)
I'm always searching for new recipes to try, and I stumbled across The Dead Celebrity Cookbook. Morbid? Maybe a little. Intriguing? Absolutely.. so of course I had to have it. This is one of the recipes featured in this gem of a book.. I made it tonight and we loved it! I'll be making more recipes from the book along with other celebrity favorites and sharing them here on my blog. Click the link below the recipe if you would like one for yourself.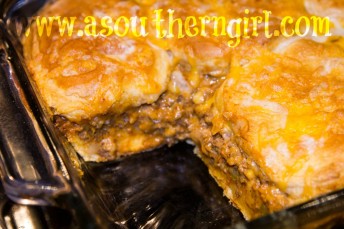 What you'll need
1 lb ground beef
1/2 cup onion – chopped
1/4 cup green chilis – chopped
1 – 8 oz can of tomato sauce
3/4 tsp garlic powder
2 tsp chili powder
3 tbsp dried minced onion
1 can of Grands Flaky Layers Biscuits
1 1/2 cup shredded cheddar/monterey jack cheese
1/2 cup sour cream
1 egg slightly beaten with fork
Preheat oven to 375
In large skillet, cook ground beef, chilis, and onion until beef is browned. Drain.  Add tomato sauce, minced onion, chili powder, and garlic powder. Mix well and bring to a simmer. Split raw biscuits in 1/2 (peel layers apart into 2 equal halves) place 1/2 of biscuits in the bottom of a greased 8×11 casserole dish. (I pressed mine to fit the shape of the dish) In separate bowl, combine sour cream, 1/2 cup of the cheese, and beaten egg. Mix well then add to beef mixture. Spoon evenly over biscuits and top with remaining biscuits (I smashed them down to cover more area) and then top with left over cheese.  Bake for 30 minutes or until biscuits are golden brown.
You now have a meal Alice would be proud of.