These are so easy and so good… a little salty.. a little sweet.. chewy, crunchy… yum. I called them Chocolate Caramel Pecan Pretzels.. which was a mouthful! Someone informed me that they are Pretzel Turtles. That's sooo much easier to say. I never knew they had a name. Thanks!

Pretzel Turtle Bites
Ingredients
1 bag of pretzel snaps
1 bags of Rolo Minis (or 2 if you are taking them to a party, like I plan to do. ;) )
1 bag of pecan halves
Instructions
Line a baking sheet with foil or parchment paper and cover with pretzels. Then put one Rolo on each pretzel.
Pop them in a warm oven for about a minute until chocolate is softened.
Then immediately top each one with a pecan and push down slightly. Boom! Done. :)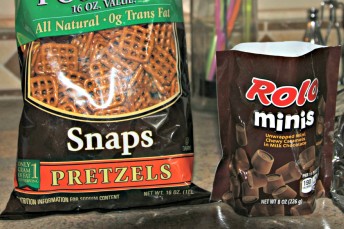 This is the kind I used. You could use full sized Rolos if you like.